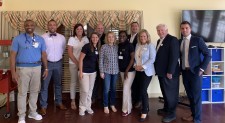 GOSHEN, Ind., August 16, 2019 (Newswire.com) - ​​​​​​Waterford Crossing Health Campus, a Trilogy Senior Living Community located in Goshen, Indiana, was pleased to welcome Representative Christy Stutzman to its campus for a visit on Monday, Aug. 12. Present for the visit were several team members from Trilogy Health Services' home office in Louisville, Kentucky, members of the Waterford Crossing team, and representatives from the Indiana Health Care Organization (IHCA).
Executive Director Chad Knisley led Stutzman on a tour of the campus, during which he highlighted the campus' continuum of care. After the tour, Stutzman and Knisley joined several more members of Waterford Crossing's team, as well Dennis Neary, Director of Legislative and Political Affairs, and Tracey Harvey, Director of Assisted Living and Foundation Services, both from the IHCA, for a round table discussion.
Neary and Harvey spoke to the representative about critical industry topics, including the need for improved resident transportation and the importance of preparing senior living facilities for their state inspections.
"If there is anything you see that could be streamlined and more efficient, let's do it," commented Stutzman. "Our tendency as Hoosiers is to be long-suffering to the point where we only speak about it when it becomes desperate. Stay in contact with me so I can make things simpler for you." Stutzman encouraged those present to visit the Hoosier Solutions section of her website at www.christystutzman.com.
During the course of the round table, Stutzman also learned how Trilogy invests in its workforce, directly from those who have been positively impacted by the provider's programs. Johnny Williams, LPN, spoke about the compassion shown by Waterford Crossing's leaders and how communication between team members is streamlined thanks to Red e App, a text-based communication platform utilized by all Trilogy Senior Living Communities. Two Waterford Crossing Certified Resident Care Associates (CRCAs) shared how they were motivated to pursue additional certifications thanks to Trilogy's Fast Track Apprenticeship programs. Shane Stuber, Trilogy's AVP of Foundation & Workforce Development, explained to Stutzman how these programs lead to more engaged employees as well as higher retention rates.
"I love the idea of a foundation," commented Stutzman. "It's something that is needed. You're not just providing a service for people living here, you are providing jobs, providing careers. What you are going to do is create more people that are loving what they do. They've found their calling."
Before departing, Stutzman also commented on the residents she met during her visit, one of whom is a family friend. "I saw someone here that I've known for years, and he seems so happy. He's lived here for years and it's awesome that he's found a place in his community that can deliver the services he needs."
Trilogy Health Services communities offer a full range of personalized senior living services, from independent and assisted living to skilled nursing and rehabilitative services in over 100 senior living communities throughout Kentucky, Indiana, Ohio and Michigan. Trilogy's senior living services are delivered by staff specially trained to honor and enhance the lives of our residents through compassion and a commitment to exceeding customer expectations. Trilogy Health Services is a subsidiary of Griffin-American Healthcare REIT III, Inc. To learn more about Trilogy Health Services, please visit our website at www.trilogyhs.com. You may also follow Trilogy Health Services on Facebook and Twitter.
Source: Trilogy Health Services
Share: