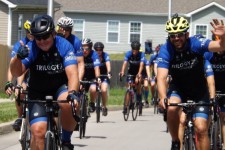 Senior Living Provider Embarks on 7th Trilogy 200 Bike Ride
LOUISVILLE, Ky., June 3, 2019 (Newswire.com) - ​​​​It has been seven years since 11 brave and determined individuals embarked on Trilogy Health Services' first-ever wellness bicycle ride, the Trilogy 200. Back in 2012, the company was taking its first steps towards establishing a culture of employee wellness throughout its communities across the Midwest. This included the creation of the now thriving wellness program, TrilogyFIT, and the inaugural trek across 200 miles of pavement to spread the gospel of good health to employees at Trilogy Senior Living Communities in Central Indiana and Ohio. Since then, both TrilogyFIT and the T200 have grown, and Trilogy has been recognized time and again for its commitment to employee well-being. This year, nearly 40 riders will be tackling the 200-mile route through Northern and Central Indiana. Thanks to Trilogy's investments in its wellness programming, the group has more information than ever to share about available programs and support services, as well as many inspiring success stories to celebrate.
"We have a motto at Trilogy that reflects our commitment to employee wellness, 'caring for you, as you care for others,'" commented Randall Bufford, President and CEO of Trilogy Health Services. "And while the motto is great, we know that without tangible investments in employee wellness, it quickly becomes just empty words. That's why we are constantly looking for new and improved ways to put these words into action for our employees. During Wellness Week, we will be rolling through 10 of our senior living communities, educating our employees on the wellness resources, support and programs we offer through TrilogyFIT. During our ride, we will be focusing on three basic steps every employee can take to improve their health. One – Have your health metrics tested and then react to what your body is telling you. Two – Quit the use of all tobacco products. Three – Avoid a sedentary lifestyle. This year we will also be sharing information on how to maintain your financial wellness. We understand that finances play a big role in our overall well-being, which is why we connect our employees with financial experts, education and support programs to help them make healthy financial decisions that will benefit their entire family. At Trilogy, we believe in the power of leading by example. Through our investments in wellness, we put that belief into action."
The T200 will begin with a kickoff celebration at Cedar Creek Health Campus in Lowell, Indiana on June 4. From there, the riders will put rubber to the road and make stops in Valparaiso, Indiana (Avalon Springs Health Campus) and South Bend, Indiana (Wellbrooke of South Bend). Day two of the ride will begin at Greenleaf Health Campus in Elkhart, Indiana, and will include stops in Goshen, Indiana (Waterford Crossing Health Campus), and Kendallville, Indiana (Orchard Pointe Health Campus). On the final day of the ride, the crew will begin at Wellbrooke of Wabash in Wabash, Indiana, and roll on to Peru, Indiana (Blair Ridge Health Campus) and Kokomo, Indiana (Wellbrooke of Kokomo). The final stop on the tour will be at Wellbrooke of Westfield, located in Westfield, Indiana. For real-time updates, pictures and more, follow Trilogy and TrilogyFIT on Facebook and Twitter.
At each stop, Trilogy will host a wellness fair for campus employees. The fair will feature booths to educate and inform employees on a range of topics, including diet and nutrition, understanding your health statistics (blood pressure, etc.) and available benefits and wellness programs. Employees at all of Trilogy's senior living communities throughout the Midwest will also be taking their own steps to improve their wellness during Wellness Week, including participating in the TrilogyFIT Family Fitness Challenge and the Go365 National Step Challenge. These steps can be tracked through the Go365 wellness app. Through the Go365 program, Trilogy offers its employees a number of wellness incentives, including discounts on fitness devices such as activity trackers, free biometric screenings, monetary rewards including gift cards and access to health coaches to provide guidance and encouragement throughout their wellness journey. Currently, over half of Trilogy's 15,000 employees have downloaded the app.
Trilogy Health Services is proud to have been recognized by various organizations for its wellness initiatives. In 2016, the company was named one of the Healthiest Workplaces in America. Trilogy was ranked #50 in this highest, most coveted distinction in the corporate wellness industry. Trilogy has also been named a 2016 Healthiest Employer of Greater Louisville, #63 on the 2018 US Healthiest Companies, and a 2019 Louisville Worksite Wellness Platinum Level.
Trilogy Health Services would like to extend a thank you to the following companies for their support: United Healthcare, GFS, BB&T, Willis, Towers, Watson, The Bufford Family Foundation, Huntington Bank, Mobile Care Group, HPS, Purchasing Power and Go365.
Trilogy Health Services offers a full range of personalized senior health and hospitality services, from independent and assisted living to skilled nursing and rehabilitative services in over 100 senior living communities throughout Kentucky, Indiana, Ohio and Michigan. Trilogy's senior living services are delivered by staff specially trained to honor and enhance the lives of our residents through compassion and a commitment to exceeding customer expectations. Trilogy Health Services is a subsidiary of Griffin-American Healthcare REIT III, Inc. To learn more about Trilogy Health Services, visit our website at www.trilogyhs.com. You may also follow Trilogy Health Services on Facebook and Twitter.
###
Source: Trilogy Health Services
Share: