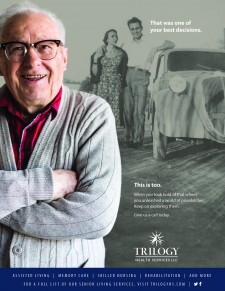 New Website, Tagline, Ad Campaign Reflect Core Mission, Values and Purpose
LOUISVILLE, Ky., February 26, 2019 (Newswire.com) - Trilogy Health Services, a senior living provider with over 100 locations across four states, is pleased to announce the launch of its brand refresh, which encompasses new company and careers websites, community logos, a tag line and an ad campaign.
The purpose of Trilogy's brand refresh is not to distance itself from the reputation it has built over the past 20 years, but to breathe new life into the materials that communicate the company's long-held mission, values and purpose. In doing so, the provider hopes to give its audience an accurate picture of what they can expect to find inside a Trilogy Senior Living Community, which is, in a word, family.
"With our brand refresh, we're not forgetting our core values or where we came from," commented Randall Bufford, Trilogy's president and CEO. "We are modernizing our look and our communication tools in light of an increasingly digital marketplace. Trilogy communities have always been places where families can find exceptional care and support, as well as fulfilling careers. Our new tagline, Where Family Comes to Live, ensures that our brand reflects the family values upon which Trilogy was built."
Trilogy's new websites can be viewed by visiting www.trilogyhs.com or www.trilogyjobs.com. Trilogy's new company-wide ad campaign Best Decisions is now running in markets across Kentucky, Indiana, Ohio and Michigan. Collateral includes print materials as well as a new commercial, which can be viewed by visiting https://www.youtube.com/watch?v=6xATUBRR7VY.
Trilogy Health Services offers a full range of personalized senior health and hospitality services, from independent and assisted living to skilled nursing and rehabilitative services in over 100 senior living communities throughout Indiana, Ohio, Kentucky and Michigan. Trilogy's senior living services are delivered by staff specially trained to honor and enhance the lives of our residents through compassion and a commitment to exceeding customer expectations. Trilogy Health Services is a subsidiary of Griffin-American Healthcare REIT III Inc. To learn more about Trilogy Health Services, visit our website at www.trilogyhs.com and follow on Facebook and Twitter.
Source: Trilogy Health Services
Share: