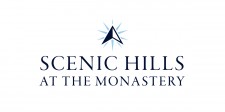 Scenic Hills at The Monastery Finds New Home Near Sisters of St. Benedict
LOUISVILLE, Ky., October 23, 2019 (Newswire.com) - ​​​​Trilogy Health Services is pleased to announce the opening of their newest senior living community, Scenic Hills at The Monastery. Located at 710 Sunrise Drive in Ferdinand, Indiana, on property leased directly from the Sisters of St. Benedict, Scenic Hills at The Monastery is replacing Scenic Hills Care Center, located at 311 E 1st Street in Ferdinand.
Since breaking ground in the spring of last year, excitement has been building at Scenic Hills Care Center. Now, the anticipation is palpable as residents prepare to move to upgraded, luxury surroundings. Accommodations at Scenic Hills at The Monastery will include an increased number of private rooms with private bathrooms, comfortably furnished common areas, elegant public and private dining rooms, a beautifully landscaped courtyard, an ice cream parlor, a full-service salon and breathtaking views of the nearby hills.
"We couldn't be more excited to welcome our residents and staff members into their beautiful new home," commented Leigh Ann Barney, President & CEO of Trilogy Health Services. "I know that both groups have truly looked forward to this day. At Trilogy, it's our goal to be a place where family comes to live. That's why every feature of this campus was designed with our residents and their families in mind. When we combine these features with our Trilogy Service Standards, we create a place where people can receive the support they need while they pursue activities that fill them with purpose. We look forward to partnering with the Sisters of St. Benedict to continue our mission of caring for Ferdinand seniors."
At Scenic Hills at The Monastery, residents will also have access to a wider range of care and support services. In addition to Skilled Nursing and Long-Term Care services, the new campus will also offer Assisted Living and Short-Term Care services such as Rehabilitation and Respite Care. Scenic Hills at The Monastery will also boast its own Legacy Neighborhood concept, which Trilogy has dubbed The Trillage. In this stand-alone Memory Care community, Scenic Hills will provide 24-hour Memory Care services, including Trilogy's BFF Program. Inspired by the Best Friends™ Approach to Dementia Care developed by David Troxel and Virginia Bell, the BFF Program is based on the belief that what every person with dementia needs is a friend, a best friend. In the Trillage, caregivers take the time to learn each individual's life story, which is then used to create meaningful activities and experiences. From short, unstructured moments of reminiscence and connection to programs based in music, the arts, and more, residents of the Trillage can feel safe, secure, and valued every day.
The Trillage will also contain a specialized, sensory common area, a residential-style kitchen and a private dining room, among other features. While the neighborhood will staff its own set of highly trained caregivers and include a separate entrance for visiting family and friends, it remains within arm's reach of the rest of the community, allowing residents and staff quick access to additional resources as needed.
Scenic Hills at The Monastery's close proximity to the Monastery of Immaculate Conception has informed the layout of the campus, as well as the activities that will be offered. In addition to an on-site chapel, residents will have many opportunities to attend outings with The Sisters of St. Benedict, including visits to St. Benedict's Brew Works. These opportunities will be in addition to the wide array of life enrichment activities that are offered at every Trilogy senior living community. Whether a resident feels their best wearing a pair of gardening gloves, reading their favorite book, dancing to music, creating art or even baking a family recipe, Scenic Hills at The Monastery will offer them the chance to do what they love.
Community members are invited to attend Scenic Hills at The Monastery's Community Open House on Sunday, November 10th from 1:00 p.m. - 3:00 p.m. At the Open House, attendees will be able to take campus tours, enjoy light refreshments, and learn about everything Scenic Hills at The Monastery has to offer.
Trilogy Health Services offers a full range of personalized senior health and hospitality services, from independent and assisted living to skilled nursing and rehabilitative services in over 100 senior living communities throughout Kentucky, Indiana, Ohio and Michigan. Trilogy's senior living services are delivered by staff specially trained to honor and enhance the lives of our residents through compassion and a commitment to exceeding customer expectations. Trilogy Health Services is a subsidiary of Griffin-American Healthcare REIT III, Inc. To learn more about Scenic Hills at The Monastery, please contact the campus by calling (812) 367-2299, or visit the campus website at www.scenichillsmonastery.com. To learn more about Trilogy Health Services, please visit our website at www.trilogyhs.com. You may also follow the campus and Trilogy Health Services on Facebook and Twitter.
Source: Trilogy Health Services
Share: