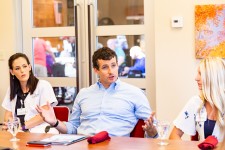 Workforce Development, Employee Engagement Topics of Discussion
BLOOMINGTON, Ind., August 5, 2019 (Newswire.com) - ​​​​​​Stonecroft Health Campus, a Trilogy Senior Living Community located in Bloomington, Indiana, was honored to host Congressman Trey Hollingsworth on Thursday, Aug. 1. In addition to touring the campus itself, Hollingsworth spoke with members of the campus team about the future of Indiana's workforce.
During the campus tour, Hollingsworth asked insightful questions regarding the senior living journey, from the moment a family makes the decision to tour, to how the campus supports seniors as their needs change. Quality measures, resident engagement, and staffing numbers were all topics of discussion. Trilogy team members, including Todd Schmiedeler, SVP of Foundation & Workforce Development, April Williams, Senior Community Services Representative, and Chelsie-Marie Daugherty, Director of Health Services, were eager to speak about what makes Trilogy different from other providers in its markets – namely, the investments the company makes in improving the lives of those it serves, starting with its employees.
"We're excited about the opportunity to help students build their careers after school, and to even continue their schooling," Hollingsworth commented during the tour.
The team highlighted Trilogy's Student Loan Repayment Program as well as its Fast Track Apprenticeship Program, which provides members of its culinary and nursing departments with the opportunity to earn certifications, college credit, and higher pay. With retention and turnover being major concerns for many Indiana businesses, Hollingsworth was pleased to hear that those who participate in Trilogy's Apprenticeship Programs have an 80% retention rate.
After the tour, a group of campus team members gathered for a round table discussion with the Congressman, including several who are currently taking advantage of Trilogy's workforce initiatives; most notably its recent partnership with Purdue Global, which offers Trilogy employees the chance to pursue a higher education with 100% of their tuition covered.
"30 years ago, employees were seen as just cogs in the wheel. That's no longer the case. Companies that focus on culture and growing employees succeed in the long-run," Hollingsworth told attendees. "Some of the greatest assets walk out of the door every day, and it's the company's job to keep them there."
"We're committed to supporting our employees in times of inspiration and desperation," commented Schmiedeler. "The burden of student loan debt is crippling an entire generation. We believe in helping our employees pay off this debt, and providing them with growth paths that help secure them a bright future. The best way we can provide amazing care to our residents is by investing in our employees."
According to Hollingsworth, Trilogy's dedication to investing in its workforce is something Indiana could use more of. "The more we can do in fields where people are a necessity, the better. We support on-site training programs. We need to tell kids that there are a plethora of pathways to success in this country."
The visit ended with Hollingsworth assuring all present that he was impressed with what he saw, and that he will fight for programs that benefit the Hoosier workforce. "It's our job to make sure that the federal government works for people. If there is anything we can do for you, let us know. You guys have made enormous investments in your employees, and it shows in the people who are here today. You should be proud of this place, it's unbelievable."
Trilogy Health Services communities offer a full range of personalized senior living services, from independent and assisted living to skilled nursing and rehabilitative services in over 100 senior living communities throughout Kentucky, Indiana, Ohio and Michigan. Trilogy's senior living services are delivered by staff specially trained to honor and enhance the lives of our residents through compassion and a commitment to exceeding customer expectations. Trilogy Health Services is a subsidiary of Griffin-American Healthcare REIT III, Inc. To learn more about Trilogy Health Services, please visit our website at www.trilogyhs.com. You may also follow Trilogy Health Services on Facebook and Twitter.
###
Source: Trilogy Health Services
Share: