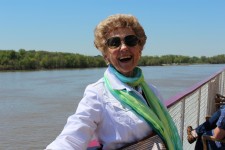 200 Residents and Staff Members to Attend as Part of Live a Dream's Group Dream
LOUISVILLE, Ky., April 15, 2019 (Newswire.com) - ​It may not be the fastest race in sports, but The Great Steamboat Race, held on the mighty Ohio River since 1963, makes up for what it lacks in speed with showmanship. Every year, people gather to watch these mighty vessels churn up water, belch out steam, and chug down the river at speeds of up to 7 miles per hour. While those on the sidelines are treated to a glimpse into the past, it's the ship's passengers who have the privilege of enjoying the full steamboat experience. This year, thanks to the nonprofit organization Live a Dream, those passengers will include 200 residents and caregivers from Trilogy Senior Living Communities throughout Indiana, Ohio and Kentucky.
On Monday, April 29 at 3:00 p.m., Live a Dream will be teaming up with the Kentucky Derby Festival to host the second-ever Steamboat Race Trial, during which The Belle of Louisville will warm up her wheel in preparation for the big event. Residents and staff will be treated to southern-style appetizers and live music on the ship. By offering this opportunity to Trilogy communities both inside and outside of the Louisville area, Live a Dream will be giving many seniors their first taste of Derby season.
"This will be the largest Group Dream that Live a Dream has granted so far," commented Serena Haming, Foundation Specialist at Trilogy Health Services and head of Live a Dream. "Last year's Steamboat Race Trial was an enormous success, and this year we're doubling our number of attendees! We're taking away the planning, the cost, and the crowds to provide an experience everyone will remember for a long time. This is just the first in a long line of amazing dreams to come. I encourage anyone who knows a senior with a dream to apply for them to live that dream at www.liveadream.org."
The Live a Dream program was originally created to fulfill the lifelong dreams of residents in Trilogy Senior Living Communities. Since its creation, the program has now evolved into its own nonprofit, and is expanding its mission to fulfill the dreams of seniors across the Midwest. Over the years, Live a Dream has helped seniors whiz through the forest canopy on zip-lines, skyrocket into the stratosphere on hot air balloons, pilot planes, take once-in-a-lifetime trips, and reunite with family and friends they feared they may never see again. From "first times" to "one last times," Live a Dream has a track record of turning wishful thinking into a wonderful reality.
The Steamboat Race Trial is what is known as a Live a Dream Group Dream: A dream designed specifically to be enjoyed with friends. Live a Dream looks forward to creating an experience that is sure to be treasured by all those involved, and is excited to fulfill the dreams of more seniors in the future. Those wishing to watch the adventure unfold in real time can follow Trilogy Health Services and Live a Dream on Twitter (@TrilogyLiving and @LiveADreamUSA) and "Like" Trilogy Health Services and Live A Dream USA on Facebook.
Live a Dream is a nonprofit organization dedicated to changing the lives of seniors across the U.S. Our mission is to learn their stories, embrace their passions, and create experiences they can cherish forever. In this way, we hope to give back a little of what they have given, and continue to give. To learn more about Live a Dream, or to apply to live your own dream, please visit www.liveadream.org.
Source: Live a Dream
Share: