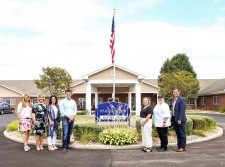 Congressman Takes Campus Tour, Visits with Employees
SCOTTSBURG, Ind., August 21, 2019 (Newswire.com) - ​​​​​​​​Hampton Oaks Health Campus, a Trilogy Senior Living Community located in Scottsburg, Indiana, was pleased to host Congressman Trey Hollingsworth on Friday, Aug. 16.
During his brief visit to Hampton Oaks, Hollingsworth made it a point to absorb as much knowledge as possible about the campus, its residents, and its employees. During the campus tour, led by Hampton Oaks Executive Director Brandy Royalty, Hollingsworth inquired about the types of residents that campus serves, and how services are adapted to meet their needs as they grow more acute. He also inquired about the campus' biggest challenges, which, according to Royalty, are staffing, especially during the second shift.
Despite these challenges, Royalty's outlook on the future was bright. Trilogy Health Services has made many investments in its employees, which have translated to higher satisfaction rates and decreased turnover company-wide. Two employees, Penny Koerner, Director of Food Services, and Abigail Baker, Certified Resident Care Associate (CRCA), joined Royalty, Hollingsworth, and several other members of Trilogy's team to share their Trilogy growth stories. Both employees have taken advantage of Trilogy's Fast Track Apprenticeship program, and are working their way towards new certifications.
Hollingsworth, Royalty, and Trilogy's AVP of Foundation and Workforce Development, Shane Stuber, also spoke about Scottsburg's challenges as a community, and how the culture of compassion found within the walls of Hampton Oaks extends into the community at large. "Showing love, grace, and mercy is all part of the bigger picture," commented Royalty. "We partner with local food banks, churches, and rehabilitation programs to support those in need. Through the Trilogy Foundation, we're also able to provide our employees with emergency assistance funds, should they ever need them. We have helped several employees escape domestic violence situations."
"Within our employee communication tool, Red e App, employees can find information on how to take advantage of the support we offer," commented Stuber. "To date, we have assisted over 7,500 employees by providing nearly $2.6 million in emergency assistance."
"In an age where it feels like conglomerates are taking over, you have a great community here that really cares about others," commented Hollingsworth. "Kudos to you for building relationships with your employees so that they see you as a mentor and as someone they can turn to for help. If there is anything I can do to help you, or to help your community, please let me know."
Hollingsworth left with a basket full of Hampton Oaks' fresh-baked bread and cookies, along with a standing invitation to return for Happy Hour any time he likes.
Trilogy Health Services communities offer a full range of personalized senior living services, from independent and assisted living to skilled nursing and rehabilitative services in over 100 senior living communities throughout Kentucky, Indiana, Ohio and Michigan. Trilogy's senior living services are delivered by staff specially trained to honor and enhance the lives of our residents through compassion and a commitment to exceeding customer expectations. Trilogy Health Services is a subsidiary of Griffin-American Healthcare REIT III, Inc. To learn more about Trilogy Health Services, please visit our website at www.trilogyhs.com. You may also follow Trilogy Health Services on Facebook and Twitter.
Source: Trilogy Health Services
Share: